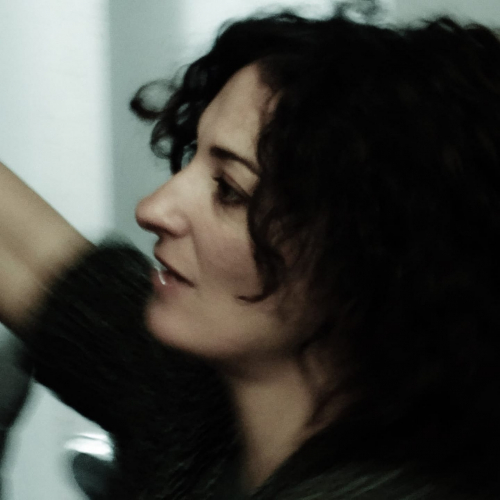 Lina is  a London-based set and costume designer .
Since 2004 she pursued her professional career and undertook projects on an independent basis for a wide variety of film and theatre productions
She has also developed 3D modelling and rendering skills to help realise set designs.
Alongside, she has developed a portfolio of digital concept art, showcasing environments modelled in 3D and rendered in VRay and photoshop.
Originally from Greece, she was attracted to the world of arts from a young age and she attended the school of Fine Arts in Italy.
She is a member of BFDG and Design Associates.
SEE FULL BIO
FILMOGRAPHY (selected works)
Production designer:
• Landscape Depressionsby Janis Rafa,  Art for the World, Rome/Greece 2022
• Retribution (short) by Nick Wall, Daniel Stissen film productions, London 2018
• A Tell-Tale Garden by Kl. Danopoulos, Greek Film Center, Athens 2009
• In the Name of the Sparrow (short) by K. Papavasileiou ( Festival de Cannes), Athens 2007
• Evil by G. Nousias, Greek Film Center, Athens 2005
• White Light (short) by Th. Sarantos, Greek Film Center, Athens 2004
• Head in the Clouds by N. Spanos, Greek Film Center, Athens 2003
Costume Designer:
• White Chamber feature by Paul Raschid, Aviary films, London 2018
• My friend the Polish Girl feature film by Ewa Banaszkiewicz and Mateusz Dymek, London 2015
• Second Sephard's Day by D. Morse, Cambridge 2015
• The Seed by Iph. Kotsoni (short) Greek Film Center, Athens 2015
• Lois (short) by A. Schepisi, Filmografic, Sydney/Sifnos 2012
• Instructios (short) by K. Gialouridis, Ecofilms, Athens 2008
• Here We Are by S. Tsiolis, Greek Film Center, Greece 2003
Art department:
• A Place Called Home by M. Douza, Steficon SA, set decorator, Athens 2012
• BSB commercial, STEFI, set decorator, 2007
• Uranya by K. Kapakas, CL Productions, set decorator, Crete 2006
Costume and Wardrobe department:
• San gluko tou koutaliou (TV series) ANT, assistant costume designer, Gr. 2005
• 101 entoli (TV series) ALPHA, assistant costume designer, Gr. 2004-2005
• Niovi (historical TV series) NET, assistant costume designer, Gr. 2004
THEATRE (selected works)
• A Streetcar named desire by Tennessee Williams, National Theatre of Greece, Costume designer (dir: Th.Sarantos), Athens 2021
• Hamlet by W. Shakespeare, Barbican Theatre, assistant costume designer (des: Katrina Lindsey), London October 2015
• Bend it like Beckham by Gur. Chadha, Pnoenix Theatre, assistant costume designer (des: Katrina Lindsey), London 2015
• Bodyko-Ensemble by Hadas Selbst, Cambridge Junction, costume designer, Cambridge 2015
• Speed the Plow by David Mamet , Faust Theatre, stage/costumes designer (dir: G. Moschos), Athens 2013
• Blasted by Sarah Kane , National Theatre of Northern Greece, stage designer (dir: R. Pateraki), Thessaloniki 2013
• The Wish by V. Paraskevopoulou, Thission Theatre, stage designer, Athens 2013
• Americano by A. Papadiamantis, M. Cacoyannis Foundation, costume designer (dir: Th.Sarantos), Athens 2013
• Dirty Words by Diffunta Correa , Polychoros KET, costumes designer (dir: Diffunta Correa), Athens 2013
• Little Eyolf by H. Ipsen, Municipal Theatre of Ioannina, stage/costumes designer (dir: N.Kamondos), Greece 2012
• State of Emergency by F.Richter, Thission Theatre, stage/costumes designer (dir: N. Kamondos,  Athens 2011
• September Tide by Daphne du Maurier, Amiral Theatre, stage designer (dir: R. Pateraki), Athens 2009
• Puerto Grande by M. Lambrakis, Historical Centre Korai, stage/costumes design (dir: R. Pateraki), Athens 2009
• The Dog the Night and the Knife by M. V. Mayenburg, Apomichanis Theatre stage designer (dir: Th. Sarantos), Athens 2008
• The Ugly One by M .V. Mayenburg, National Theatre of Greece, stage/costumes design (dir: Th. Sarantos), Athens 2008
• Blood Enemies by Arkas, National Theatre of Cyprus, stage/costumes designer (dir: M. L. Papadopoulou), Cyprus 2008
• Peri aloseos by S. Mavidis, Municipal Theatre of Volos, stage designer (dir: S. Mavidis), Greece 2003
• Wizzard of Oz by F. Baum, Municipal Theatre of Thessaly, stage/costumes designer (dir: K.Argyropoulos), Greece 2002
Assistant Designer:
• Microsoft event, assistant set designer (concept: Myriad&Go) , London 2015
• Athens Olympic Games Opening Ceremony , model maker for the ceremonial costumes (concept: A.Mentis), Athens 2003
• Assistant set/costume designer for a variety of theatres ( including: National Theatre of Greece. Mousouri Theatre, Metaxourgeio Theatre) 2002-2003
• 50th Greek Film Festival Opening Ceremony, assistant costume designer, Thessaloniki, 2007 (concept: A.Fratzis)
TRAINING
• 2014/ Central Saint Martins London, short courses in art direction for Film • 2010-2012 / Aristotle University of Thessaloniki, Greece, Postgraduate in Drama and Performance Theory • 1996-2000 / Academy of Fine Arts, Lecce Italy, Degree in Stage Design
AWARDS
• Award for best costume design for the film The Seed by Iphigeneia Kotsoni, 38th National Short Film Festival in Drama, Greece 2015
• Honorary Distinction for best costume design for the film The Seed by Iphigeneia Kotsoni, 38th International Short Film Festival in Drama, Greece 2015